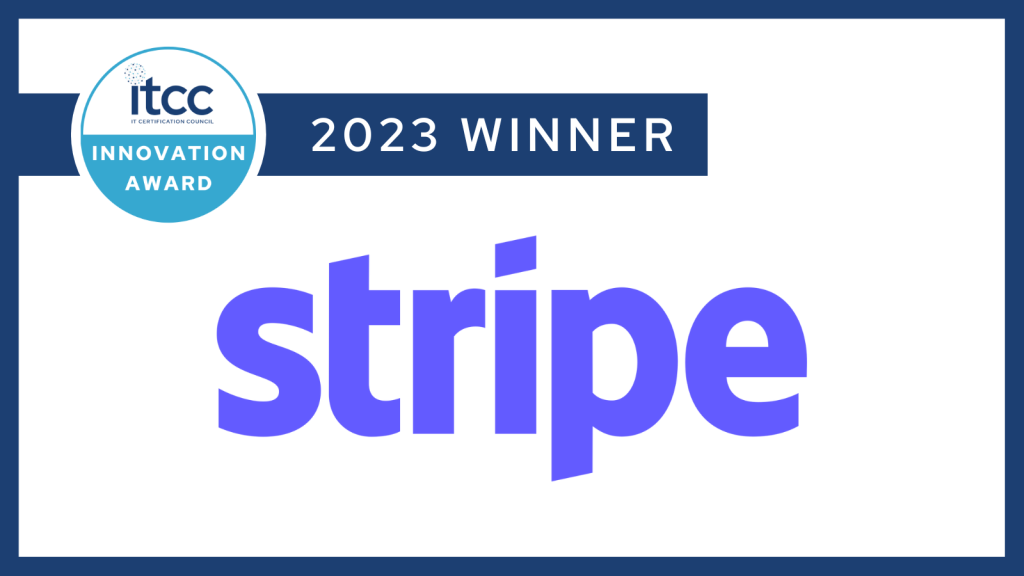 Now in its ninth year, the ITCC Innovation Award recognizes innovations in testing, processes, or service with the IT certification industry. Winners have showcased success and innovation increasing the security of testing, new methods for evaluations, improved market access to certification programs, and more.
The ITCC is excited to announce its 2023 Innovation Award winner, Stripe!
Stripe's Innovation
Stripe is a technology company that builds economic infrastructure for the internet. Business of all sizes use Stripe's software to accept payments and manage their businesses online. Stripe needed an ecosystem of partners to help expand their reach, but Stripe wanted to be very selective in choosing these new partners. They created an automated performance-based certification for Developer certification on an open source platform, at scale, allowing them to qualify as many partners as they need.
"We're getting code level qualifications of prospective partners with no requirement to manually review code," said Gary Fluitt, Certification Manager for Stripe. "We can certify as many Developers as needed. In the past six months, we've qualified Developers at 102 partner companies, a five-fold increase from the pilot program rate."
2023 Runner Up
This year's runner up was Microsoft. Their submission highlighted their work to improve the online proctored exam experience. Through that work, they were able to implement many innovations, including:
Added unscheduled breaks for all exams and languages.
Updated the OnVUE proctoring solution to allow mumbling and mouthing, looking away from the monitor, chewing gum, and children in the room.
Simplified exam accommodation request process by changing the documentation requirements, increasing the ability for people with disabilities (PwD) with particular emphasis on eliminating significant barriers for those wanting to take exams via OP.
Learn More
You can learn more about past Innovation Award winners on the ITCC website.