The ITCC Board of Directors is excited to share that it has approved a new strategic plan that will guide the organization's work in the years to come. The plan, which has been in development over the last few months, outlines goals and objectives the ITCC will use into 2025.
Jedi Hammond, Chair of the ITCC Board, shared his vision for the plan. "ITCC has done a great job over the years to bring together IT certification companies – this has been working well organically," he said. "As ITCC has grown in both size and influence, a multiyear strategy was needed to align all the various task forces and workgroups, as well as spending, to maximize value back to the member companies."
In September 2022, the Board came together in Chicago for an in-person board meeting. During this retreat, the Board dedicated the full day to developing this plan. "The ITCC board has always had a clear passion for IT certification as well as for our members," said Jedi. "There was a tangible excitement that we were able to come together and develop this plan. We are collectively excited about the direction we see ITCC headed and the opportunity we have to not just help our members collaborate but to also provide new benefits and increased certification value in the industry as a whole."
After the initial development, the Board shared the high-level plan at the Fall Member Meeting, where they hosted a workshop around each goal area to gather member input. More recently, the Board hosted a Task Force and Workgroup Chair meeting to share the details about the projects and initiatives within the plan. This new strategic plan will provide guidance to the organization well into 2025. Now that it's complete, they're excited to share it with the community.
Our Three-Year Strategic Plan
The new plan, what the Board is calling the Compass, includes four goals, each with its own objectives. The Board plans to use this Compass graphic when they showcase the plan and share it with all ITCC members.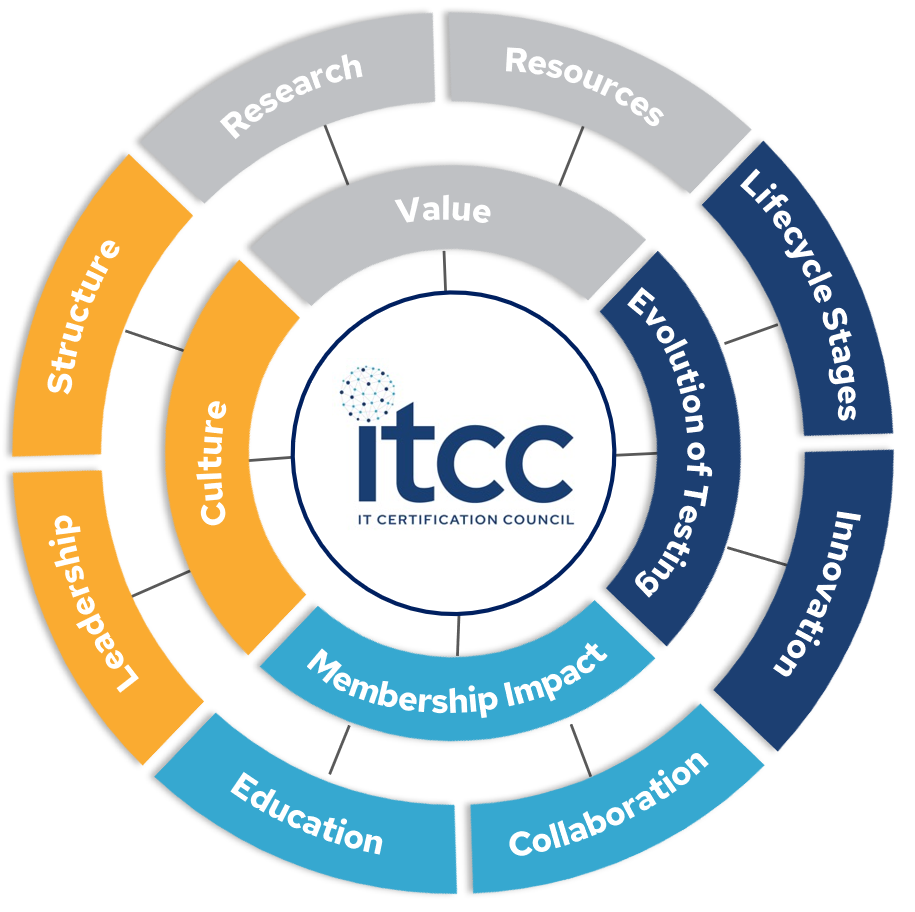 Goal 1: Value
Within this goal, ITCC aims to communicate the importance, value and purpose of IT certification in every aspect of career development and advancement to establish and grow industry influence for all ITCC members. The objectives center around establishing, reinforcing and promoting the value of certification and ITCC's research to the broader IT industry and creating resources that enable members to communicate the value of certification to their stakeholders.
Goal 2: Evolution of Testing
Here the ITCC looks to develop and share new models and best practices to support the innovation of professional IT certification programs. ITCC will achieve this goal by implementing processes to review and identify emerging trends and best practices and identifying, gathering, and interpreting trends, data, and innovations affecting assessment lifecycle stages.
Goal 3: Membership Impact
The third goal is focused on maximizing membership value through research, education, and dialogue that empowers an engaged community of collaborators and innovators. To do this, ITCC plans to develop a process to define and commission content based on identified needs; define and provide timely, relevant research and resources to support member needs; deliver intentional educational programming that engages and educates the community; and promote collaborate and dialogue opportunities to exchange ideas and deepen member connections.
Goal 4: ITCC Culture
The fourth goal is centered around the organization's culture, and ITCC will be looking to strengthen its policies, structures, and messaging to manage its growth and success. To move this work forward, the ITCC will design, manage, and communicate organizational policies that reflect the organization's values, implement an organizational structure that enables ITCC to work in collaborative and agile ways, and establish organizational vitality through continuous recruitment and development of ITCC leadership.
Learn More at the Spring Member Meeting
As the Board works to roll out this plan with all ITCC members, they're excited to partner with the community in accomplishing the plan set forth. "We have set some aggressive targets against our strategy," said Jedi. "But because of the passion and dedication of our member volunteers and our stellar staff, we are confident in the goals we have set." Members can expect to hear more about the plan during the Spring Member Meeting, happening March 12 in Dallas. If you haven't yet, be sure to register before the Feb. 24 deadline.