We are so pleased to announce that the winners of the 2022 Innovation Award are SAP and Questionmark! The companies submitted their winning proposal for their innovation titled Questionmark On-the-Fly, Real Time Translation Tool.
This annual award serves to recognize leadership initiatives that have positively impacted a company or the IT certification industry.
With the Questionmark On-the-Fly, Real Time Translation Tool, SAP and Questionmark are accelerating the delivery of new assessment content with innovative machine translation as needed during the exam. Machine translation of questions can aid non-native speakers taking certification exams in many ways and make the assessment program more inclusive.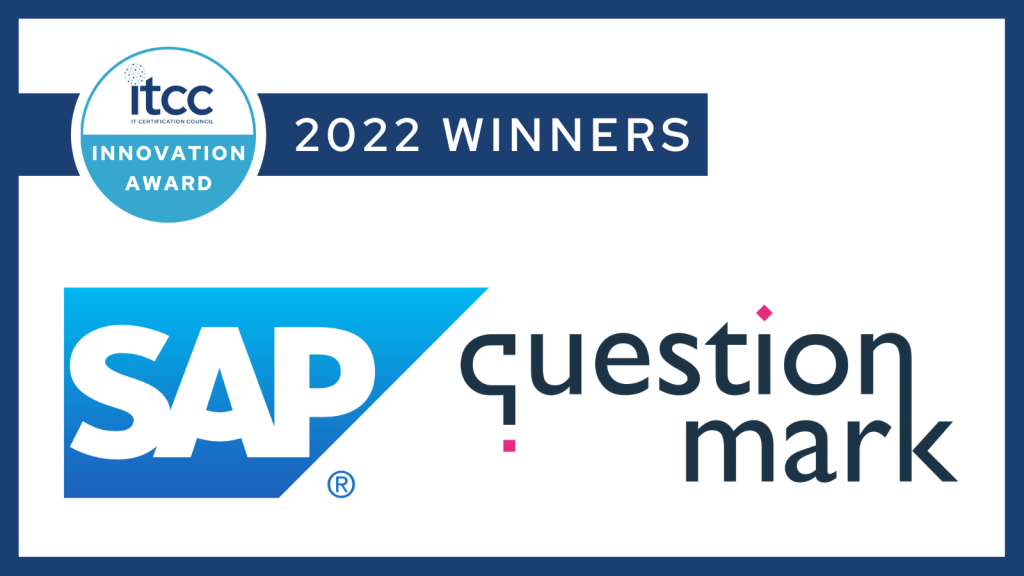 "What SAP and Questionmark have developed to enhance support for non-native English speakers is truly remarkable and innovative. The On-The-Fly Real Time Translation Tool enables them to extend exam availability to multiple language speakers on day one, while saving program time and money. This is a great solution and well deserving of the ITCC Innovation award."
– Jedi Hammond, ITCC Board of Directors Chairperson.
Submission qualifications for the Innovation Award include:
Implementation of an innovative test, process, or service within the past two years
The product, service, or initiative must produce value for one or more stakeholders within the IT certification and testing industry, such as, but not limited to:
Increased security of a test
Resulted in a new method for evaluating competencies
Improved convenience or market access to your certified program
Enhanced the respect and demand for certified professionals
Open to companies and individuals in the IT certification industry (ITCC membership is not required)
The award was presented at the Spring Member Meeting on March 20, 2022.
For information on the ITCC Innovation Award and past award winners like HPE, SAP and IBM, please visit the Innovation Award page found on the ITCC website.