We are so pleased to announce that the winner of the 2021 Innovation Award is Certiverse! Certiverse is a global exam development company founded in Chicago, Illinois. The company submitted its winning proposal for its innovation titled Certiverse Virtual Test Development Platform.
This annual award serves to recognize leadership initiatives that have positively impacted a company or the IT certification industry. Launched in 2020, Certiverse's transformative vision comes from its founders' decades of experience in this field.
The system was built from the ground up to revolutionize exam development by creating new tests faster, less expensively, and with more current content while still retaining rigorous psychometric standards.
Certiverse's proprietary technology guides subject matter experts to contribute high-quality content asynchronously online, addressing the growing industry need to generate test items quickly without requiring travel or video meetings. This innovation also allows organizations without in-house testing expertise to develop exams with dramatically reduced timelines and costs, providing more value and options to certificants. Their inaugural program, The Linux Foundation Certified IT Associate exam, went from concept to registration in 12 weeks and established a new, up-to-date entry point to IT careers at a more affordable price than comparable certifications.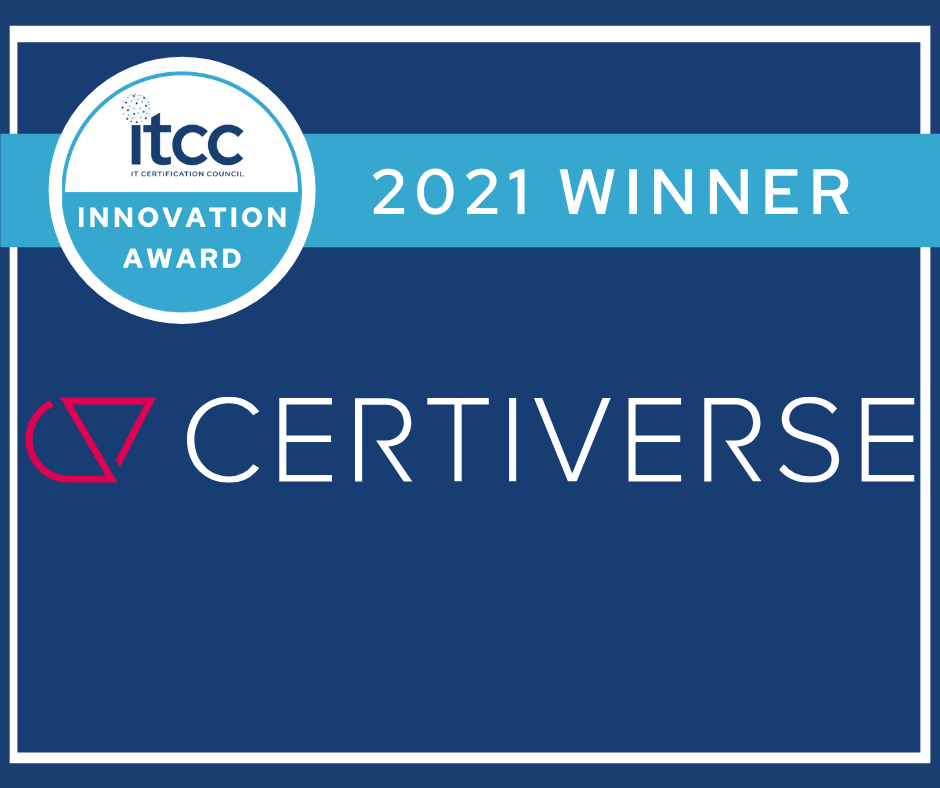 "We are excited to recognize Certiverse for their incredible work improving exam development tools and processes in a significant and new way, by building a platform that brings together crowdsourced SMEs, AI and automation, they are able to reduce development time and potential cost for exam development. Now crowdsourcing can be efficiently used for IT certifications as well as IT development! Congratulations to Certiverse for the innovative improvement to the exam development experience and for being our 2021 Innovation Award winner"
– Jedi Hammond, ITCC Board of Directors Chairperson.
Submission qualifications for the Innovation Award include:
Implementation of an innovative test, process, or service within the past two years
The product, service, or initiative must produce value for one or more stakeholders within the IT certification and testing industry, such as, but not limited to:
Increased security of a test
Resulted in a new method for evaluating competencies
Improved convenience or market access to your certified program
Enhanced the respect and demand for certified professionals
Open to companies and individuals in the IT certification industry (ITCC membership is not required)
The award was presented at the Spring Member Meeting, held virtually, on May 12, 2021.
For information on the ITCC Innovation Award and past award winners like HPE, SAP and IBM, please visit the Innovation Award page found on the ITCC website.
About Certiverse
Certiverse helps learners succeed by democratizing the exam development process. Its revolutionary online platform uses industry-leading psychometric standards, intuitive machine learning, and asynchronous crowdsourcing from experts to quickly create rigorous, cost-effective exams. Certiverse is an industry innovator, empowering organizations to engage, expand, and diversify their pools of subject matter experts, rapidly develop valid test content at scale, and create exams with less environmental impact.