The March 12 Spring Member Meeting was a huge success! Thank you to everyone who was able to attend and participate in the event. It's something ITCC members look forward to every year as it's a great opportunity to come together to kick off the new year for ITCC.
We spoke with ITCC member Liberty Munson from Microsoft, who presented about the company's innovative work to humanize the exam experience. This work was chosen as the 2023 Innovation Award runner-up. For Liberty, the ability to network, connect, and share with other ITCC members made the Spring Member Meeting such a success.
Through the meeting, Liberty also realized how aligned Microsoft's team is with their ITCC peers. Throughout the event, as Liberty spoke with other attendees, she was able to connect how Microsoft is doing similar work or thinking about problems in a similar way. It also helped her see how Microsoft is developing approaches to problems that could help others. This was especially true in the Measurements and Metrics workshop.
"During the workshop, I realized that Microsoft has implemented an approach developed by Google to measurement that could help others," Liberty said. "It's called the HEART model: Happiness, Engagement, Adoption, Retention, and Task success." Microsoft has put their own spin on it, using the terms Reach, Interaction, Happiness, Application, and Impact.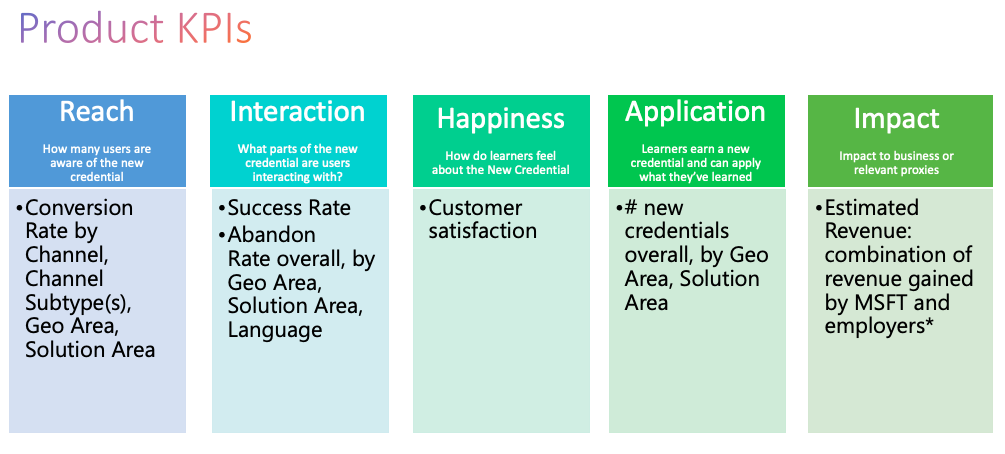 Liberty also had the opportunity to provide an update on the progress made by the Diversity, Equity & Inclusion (DE&I) workgroup.
"In the time since the Fall Member Meeting, we have surveyed ITCC members to gather feedback on where they need help or would like insight in relation to DE&I," Liberty said. Using that data, the workgroup has published guidance that increases the accessibility and inclusiveness of the exam items. In addition to that, the workgroup has a solid draft of a DE&I maturity model that ITCC members can use to assess their program and create action plans to move them to the next level of the model. "To my knowledge, this is the first of its kind for IT certification programs (perhaps for any certification program!)," Liberty shared. "It is amazing to be at the forefront of such cutting-edge work."
Throughout the event, Liberty said it was reassuring to hear how other ITCC member organizations were thinking about challenges ahead, especially when her organization was considering a similar approach.
"Microsoft is doing something similar to what Innovation Award winner Stripe is doing, so learning that someone else had implemented something similar reconfirmed that we are headed in the right direction," Liberty shared. The ability to openly converse with peers, hear an in-depth report-out of their work, and connect about how to tackle a challenge was invaluable.
Meeting Materials Available Online
If you'd like to review any of the post-meeting materials, including those mentioned in this blog, log in to visit the Spring Meeting page of the member portal.