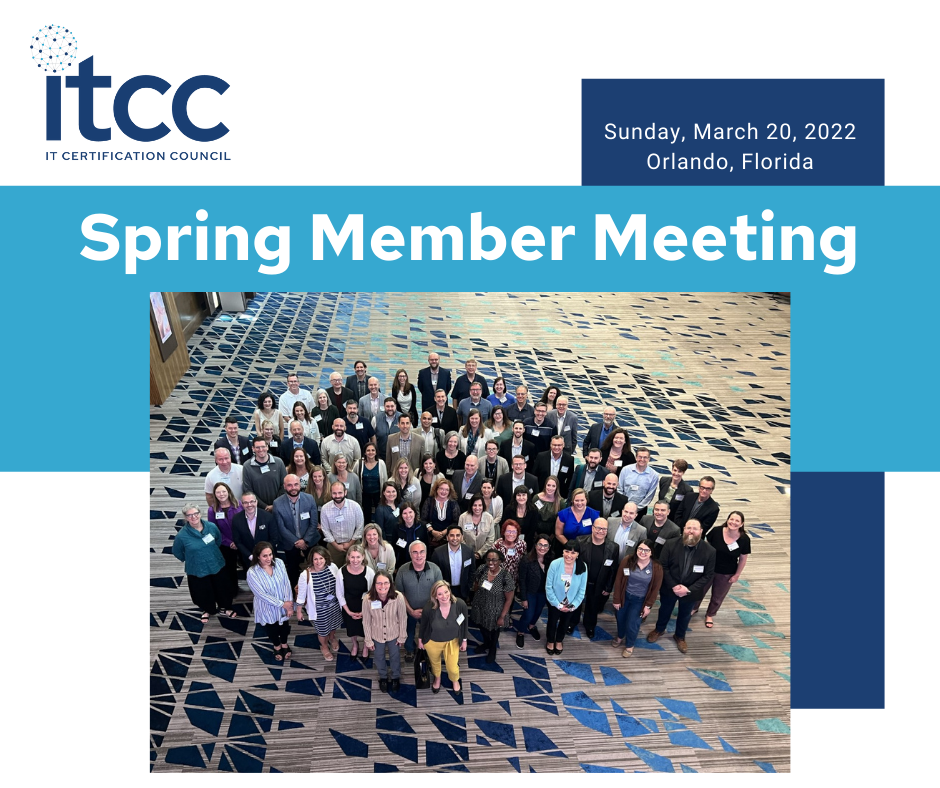 Written by Michelle Jackson, Lenovo
On March 20, the ITCC held its 2022 Spring Meeting in Orlando, Florida. With 80 members attending, the event was highly engaging and energizing!
Welcome and Introductions
As the meeting began, we celebrated that ITCC surpassed 50 members this year. New members include Arcitura, Brightlink, BTL Surpass, Kryterion, Nutanix, and PECB.
Several ITCC members were recognized for their service and contributions to the ITCC:
ITCC Board of Directors (outgoing):

Clyde Seepersad, Education Director from 2016 – 2021
John Sowles, Secretary/Treasurer from 2016 – 2021

Impact Award: John Sowles, Microsoft
Outstanding Contributor Award: Liberty Munson, Microsoft
ITCC Updates – a time to reflect and to look ahead
In 2021, two key milestones included the IDC InfoBrief on the Benefits of IT Certification and an update to the Value of IT Certifications whitepaper. See the Members-Only Resources of the ITCC website.
The chairperson of each ITCC Task Force shared an update on completed or upcoming projects. If you're not in a Task Force, check out the ITCC Weekly Digest emails for upcoming meetings — join a few to find the one that resonates most with you.
Member Presentation by MuleSoft
Simon Welham and Megan Gordon gave a member presentation about the MuleSoft Certification Program. They shared highlights from the past year, including new exam releases, security, and development processes. In addition, they presented their vision and strategy for 2022 and beyond, including digital credentialing, PBT, and other initiatives aimed at leading a recognized and desired certification program for learners and organizations.
ITCC Innovation Award – recognizing thought leaders in the IT certification industry
A true highlight of every spring meeting is the innovation award. It is inspiring to see these accomplishments and advancements in IT assessment. The 2022 Innovation Award Winner was SAP and Questionmark for their On-the-Fly, Real Time Translation Tool. The 2022 Runner-Up was Alpine Testing Solutions for their Approximation of Response Similarity Index (RSI).
Business Problems Interactive Workshop
After lunch, the group reconvened to tackle current challenges facing certification programs. A few of these included: PBT – how to make it scalable?; inclusiveness in assessments; and security – detection in different channels and proxy testing. While we may not solve these problems on the spot, these workshops are always thought-provoking.
Open Session
By the afternoon, the group was full of excitement and ideas! We had a lively open session on an array of topics – candidate experience, program success metrics, continuing certification, and more.
In conclusion, the spring meeting set the bar high for future member meetings. Huge thanks to Emily and Inga from ITCC Headquarters for making this meeting successful and fun!
Thanks to everyone who joined – let's keep the conversation going, shall we? Visit the IT Certification Council Slack space.